When we leave the school, the lights come on
Marc Villanueva Mir IN RESIDENCE at INS Maria Espinalt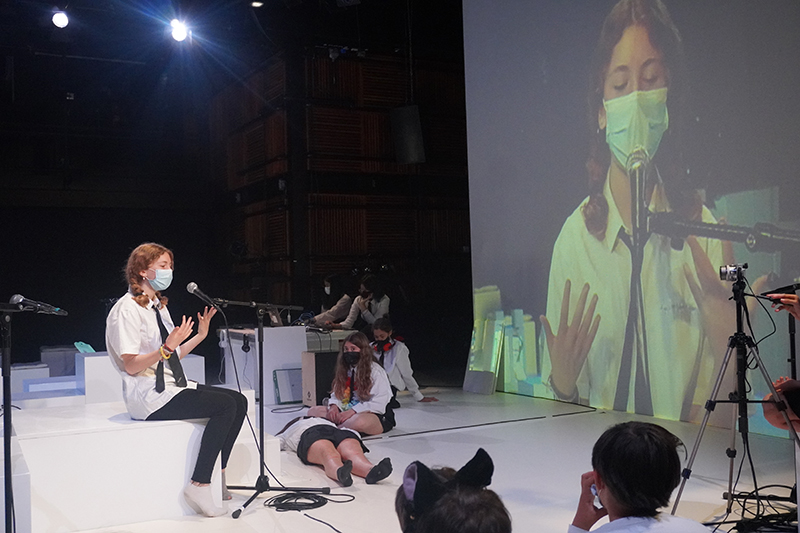 The Teatre Lliure passes the baton in the
Creadors en RESiDÈNCiA
[Artists in RESIDENCE] programme in the 20/21 season to the artist Marc Villanueva Mir, who is undertaking his project with the students at the
Maria Espinalt Secondary Institute
in Barcelona.
Marc Villanueva Mir began the process with an interest in how adolescents had experienced lockdown, and how they continued to relate to the disciplinary and authoritarian issues involved in the pandemic. Since this initial impetus, the project has been transformed into an exploration of the concept of
work
: what does work mean? Why do we work? What is the difference between working and not working? What activities would we like to earn a salary for? They are immersing themselves in the world of video games to answer these questions. This is a universe with very close links to adolescence (perhaps more than ever, at a time of pandemics and social distancing), which is full of loops, routines, customisable avatars and virtual currencies. It is also an economic sector that has seen its profits soar during the pandemic, and which primarily targets boys and girls aged between 8 and 15 years old. Together, they attempt to understand video games as a foreshadowing and model of the labour market.
By and with
Nisha Andrade, Mario Anthonysz, Sara Bernal, Maxi Cano, Mar Canosa, Lara Giménez, Muhammad Gondal, Ninna Guardiani, Iker Iglesias, Tadeo Kompare, Ona Laguarde, Ziyu Liu, Valeria Nicolás, Berta Núñez and Armand Rodrigo
Professor
Guillem Baladia
Teatre Lliure Curators
Alícia Gorina and Violeta Sugranyes
With the special collaboration of
Carlos Gallardo, Pau Matas, Xesca Salvà, Gerard Valverde
With special thanks to
Pablo Álvarez Fernández, Raquel Cors, Francesco Giaveri, Dani Lacasa, Blanca Munarriz, and Teatre Lliure's crew
Creadors En RESiDÈNCiA
[Artists in RESIDENCE] is a programme by the
Barcelona Institute of Culture (ICUB)
and the
Barcelona Education Consortium (CEB)
, with the involvement of the
Teatre Lliure
, which aims to encourage contemporary artistic creation in secondary schools by placing the students in direct and continuous contact with an artist.