Prospective Actions (Catalunya 2004 - 2018)
Laura Clos Closca, Pau Masaló, Xesca Salvà, Marc Villanueva Mir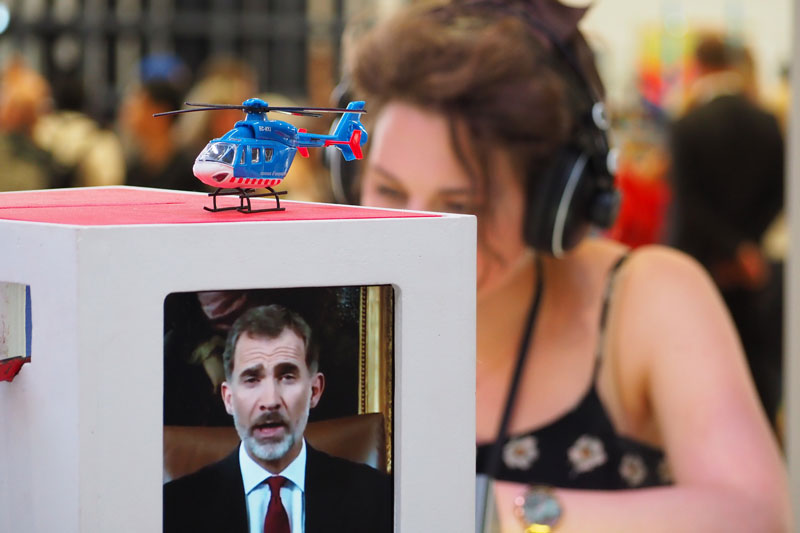 If performative strategies are constantly enacted by states to sustain their power structures, we also see an increasing number of resistance actions being deployed by grassroots movements that rely on alternative performances of spaces and bodies, and which become able to inspire and challenge stage design.
Prospective Actions (Catalunya 2004-2018)
is a participative multimedia installation that approaches this question ahead of six social conflicts that took place in Catalonia in the last 15 years, and which showcase a strong tension between police control and the opening up of new forms to use and produce public space. We invited six Catalan scenographers who started working in the nineties to help us think about these conflicts, as well as about the position of arts in front of political struggles and the interweavings between studio and street. A big round table becomes a board game, a stage for potential actions and a meeting point between two generations, separated by the breakout of the financial crisis and its impact on life, working conditions and worldviews.
This installation was granted the
Best Exhibition Award in the Exhibition of Countries and Regions
at the Praque Quadriennal 2019.
"The disembodied voice of a Catalan designer tells me to take the objects out of the white Formica drawer in front of me. I lay a table. I make a barricade. I watch a video of Spanish police brutally beat Catalans trying to vote in Barcelona. I look across to see my neighbour arrange pins in felt to mimic the groupings of protestors. There are six of us sat at this table, each meditatively engaged in minute tasks that re-enact Catalan politics, six social conflicts over the last 15 years with nothing more complex that balloons, stickers, tableware and pins."
Francesca Pechier, "A transformative tour of Prague Quadriennal", Exeunt Magazine
Concept and design
Laura Clos
Closca
, Pau Masaló, Xesca Salvà, Marc Villanueva Mir
Curated by
Bibiana Puigdefàbregas, Marta Rafa
Invited scenographers
Anna Alcubierre, Paco Azorín, Cube.bz, Sílvia Delagneau, Max Glaenzel, Eugenio Szwarcer
Construction
Jorba-Miró, Estudi Taller d'Escenografia
Electronic design
Carlos Franke
Sound design
Gerard Valverde
Video
Alfonso Ferri
Video assistant
Laia Tubío
Technical management
Roger Orra
Photography
Julia Bauer, Xenia Cubí
Production
Maria Guillén
English translation
Pere Bramon, Neil Charlton
Czech translation
Eliška Raiterová
Catalan voiceover
Núria Martínez-Vernis
English voiceover
Herbert Graf, Amélie Haller, Maria Huber, Martin Müller
Czech voiceover
Nina Jacques, Bořek Joura, Nataša Mikulová, Ian Mikyska
With special thanks to
Eduardo Cáliz, Toni Cervantes, Cesca Fora
Production of
Institut del Teatre
with the collaboration of
Institut Ramon Llull
[+ info and documentation]