Trading cards
Odile Carabantes, Carme Gomila, Xesca Salvà, Marc Villanueva Mir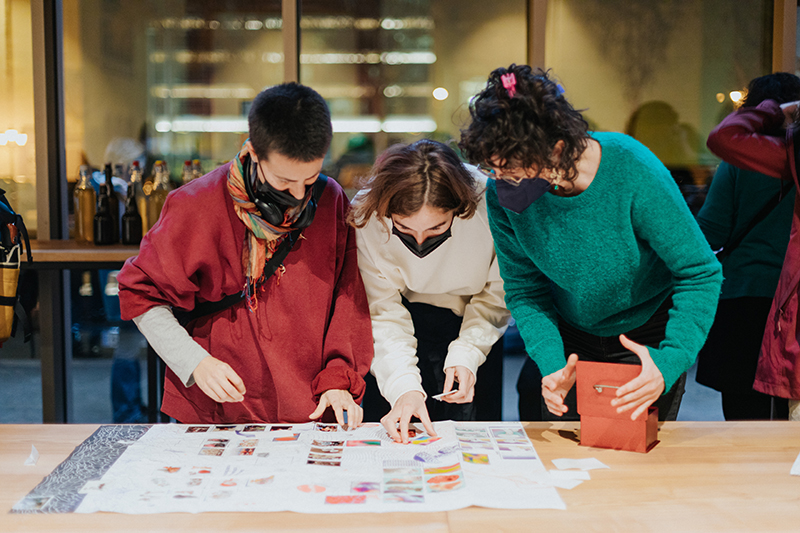 One of the formats that we wanted to explore is that of trading cards. We approach the collector's album as a playful performative device. The heroes of this album are fungi, both earthbound and stratospheric critters, equipped with special decomposing abilities that make them fitter than humans for survival in the future.
The trading cards album is a foldable poster, which may be completed by sticking to it fifty trading cards. This takes place through a playful activation whereby envelopes as well as texts and stories are traded. The album acts as a relational device that invites the audience to develop social strategies in order to complete it. Therefore, logics of horizontal exchange, capitalist accumulation, salvaging or collectivization are spontaneously embodied and performed.
Concept and design
Odile Carabantes, Carme Gomila, Xesca Salvà, Marc Villanueva Mir
Album printing
Gràfiques Ortells
Trading cards printing
Loyal Print
Album's activation
Jordi Aspa, Marina Mulet, Eva Ortega, Albert Pérez Hidalgo, Laura Renau, Alba Rihe, Bàrbara Roig, Martí Sales
Drawing
Susanne Asheuer
Photography
Sílvia Poch
With special thanks to
Ricard Guerrero, Donna Haraway, Anna Lowenhaupt Tsing and Rubén Duro
Coproduced by
Teatre Lliure
, Xesca Salvà & Marc Villanueva Mir, in the frame of
Ajuts a la creació Carlota Soldevila.